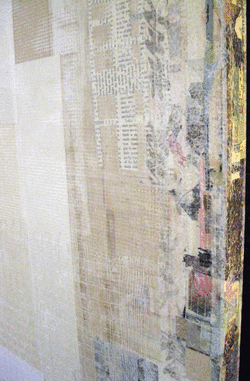 Lately I've been encountering the word "architectural" in reference to my own work, and been attracted to the architectural in other's work. Architectural? The word conjures images of structure, order, engineering, grids. I am more the Frank Lloyd Wright than Frank Gehry type, which is to say that I appreciate the elegant design sense of Wright more than the organic design sense of Gehry.
If it is possible, I would love to see with fresh eyes my series of vertical collaged wood pieces. My reaction might be "architectural." But because each piece begins with the concept of balancing negative and positive space - with the negative claiming evermore space - and because the surfaces are built so naturally in layers, my view is not immediately "architectural." Yet they are.
And it is the architectural, as well as the minimal, in the work of Shlian, McAninch, and Schoonhoven that attract me.
Who?
Matt Schlian
(pronounced "shline") folds tyvek paper to create fascinating and precise artwork, both reliefs and sculpture. Schlian refers to his process as "misfolds," a reference to protein misfolding, which is too complicated to delve into further here. Within his website, I particularly appreciate the FAQs page which answers numerous questions running through my mind and will probably run through yours as well. In response to "tell me about your inspiration," Schlian writes: "I find inspiration in just about everything; Solar cell design, protein misfolding, Arabic tile patterning, systematic drawing, architecture, biomimetics, music, etc. I have a unique way of misunderstanding the world that helps me see things easily overlooked." And there's more. What a treat to stumble across his work during one of my monthly forays to the Barnes & Noble magazine stand to peruse the latest art periodicals.
Claudia McAninch
works with recycled cardboard to create 3-D wall reliefs and sculptural pieces. I discovered this artist's work at the 5th Anniversary Gala of the West Main Artists Co-op (WMAC) in Spartanburg, SC, where she has a studio. No artist website, but I do learn on the WMAC artists page that McAninch studied, what else, architecture in Germany. She continues to work with architecture and engineering firms there as well as in the US. To quote the site, "In her artworks, she mainly works on compositions of paper and cardboard which are deeply influenced by her fascination with patterns, structures, and textures." If the artist is reading this: please post images of your work on the internet for others to enjoy. Please.
And then there are
Jan Schoonhoven
's wall reliefs, also discovered during an art periodical perusal at B&N. These are not only architectural but incredibly minimal. How quiet can art become? Schoonhoven is no longer with us (1914-1994), although his grandson
Jan Schoonhoven, Jr.
carries the art torch forward, with a discernible family influence in his visual vocabulary. The late Dutch artist is a civil servant in his country's post office by day, and artist at night who, in 1960 begins to craft "white reliefs of a geometrical structure." February 14, 2015, is the final day of an exhibit at New York's David Zwirmer, where "the first significant exhibition of the artist's sculptural wall reliefs and works on paper in America in over a decade" are on view. White on white; simplicity expanded with textural subtlety.
Are my latest discoveries synchronous? I choose to believe so, as much for the validation that the "architectural" in my collaged wood series is a shared artistic manifestation. In the building of artwork, the negative space carries just as much weight as the positive space. Perhaps more.
Photo: detail of Christina Laurel's "Pushed to the Periphery" mixed media collage on board, 24x82 inches, 2015