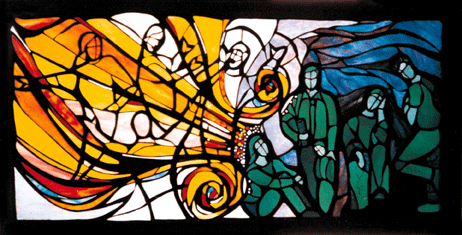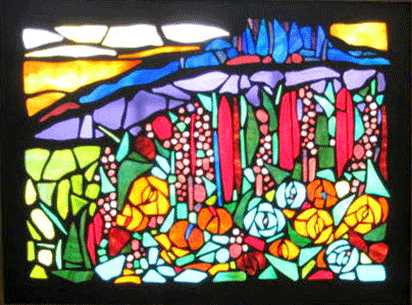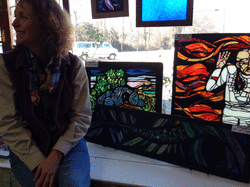 On a cold day like today where the light is filtered through a low-slung ceiling of white clouds, transforming everything into a monochromatic landscape, I welcome the colorful palette of artist Kathryn Schnabel. I also welcome her palette on cloudless days when light streams directly through Kathryn's stained glass mosaics. My introduction to her pieces is through her website, although there is nothing like seeing the genuine article ("Animator" and "Hillside in Window" are two examples). Isn't that true with any art form?
I believe that Kathryn's background in the graphic design and ad agency arena is partially responsible for her fearless approach to creativity. It's an arena that rewards brainstorming; playing with ideas and concepts in order to abstract relationships and associations, to create new linkages that click in either our conscious or subconscious.The fluidity of color swirling and moving across the compositions of Kathryn's mosaics, and of her silk paintings, releases a positive energy the artist willingly shares.
Kathryn herself references French painter Georges Roault, when discussing the dark grouting she utilizes in her stained glass mosaics. Interestingly, Roualt's paintings are often compared to stained glass because of his use of dark brush strokes outlining elements in his emotive work.
On Kathryn's website, you will discover the late artisan John Boesze who mentored her in glass technique. A technique that the artist has employed in numerous commissions, religious and secular, from the Midwest to the North Carolina piedmont. But it is Kathryn's ability to translate, for example, a client's request for a window or painting to be "biographical" or to celebrate a "life milestone" that marks the artist's signature style. She allows viewers their own relationship with the work, not just a literal interpretation with defined parameters she has established. I could say that there is a generosity in the work. The artist's ego serves the artwork, not the other way around.
If you need a dose of color to counter the gray of even a South Carolina winter day or would like to learn firsthand Kathryn's craft, visit the artist's
website
or visit the artist herself.