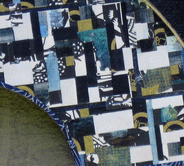 The bank associate responds to my "work" identification as an artist with an oft-heard comment: "That must be fun." Undeniably. But the levity associated with the word "fun" is counterbalanced with a myriad other words associated with gravity. "Fun" smacks of concepts such as hobby or dabbles in the arts, at which point I am inclined to launch into a monologue on the value of the arts - all of the arts - to society. Have you ever seriously imagined a day without music, a day that is absent of literature or poetry, a day where stages upon which to act or dance evaporate, or a day with walls stripped of paintings and photographs and courtyards of sculpture? What a bleak and sterile world.

More than likely the bank associate has a clearly-defined job description, work schedule, path of career ascendancy, and regular paychecks. An artist has to invent all of this, in addition to creating actual art. Ideas, materials, skills, experience, technique, style, studio, tools, business cards, resumé, artist statement, website, blog, social media, marketing, sales, collectors, publicity, promoting, photographing, taxes, exhibits, installing, framing, competitions, grants, deadlines, inventory. Just to name a few of the items that constitute "all in a day's work" (for an artist). Add in travel, agent, staff, factory, contracts, commissions, interviews, and more. Many of the artists I know are also instructors, adjunct faculty, workshop presenters, lecturers, jurors, curators, and art supply store staff. There is the ever-present danger that these commitments - the professional artist's unwritten job description - will squeeze the creative juices from within. Thankfully, history supplies us with muses and mentors, artists both proficient and prolific, and undaunted in this challenge.

The performing arts are applauded; the response to the visual arts is discourse. Although occasionally there is applause - like the day when a classroom full of adult learners erupts in gratitude at the end of a drawing lesson on value scales. This is fun, but what proves to be even more, well, fulfilling is that the students realize the lesson as intended. And the intention is serious...but fun. Time to get back to work.