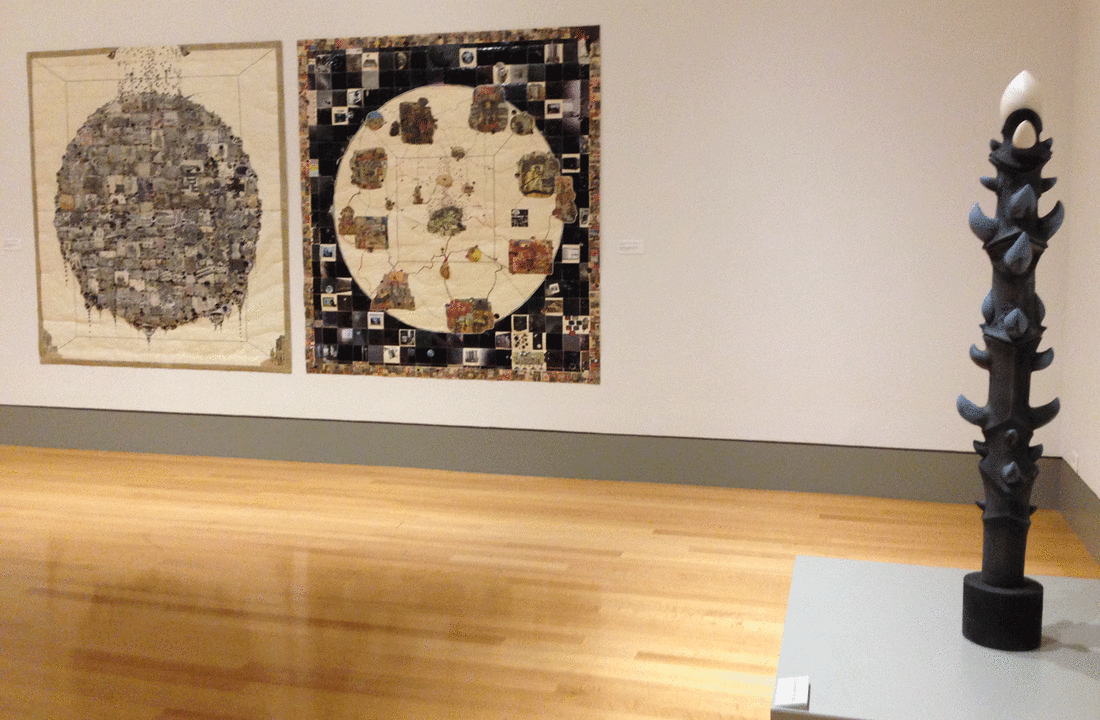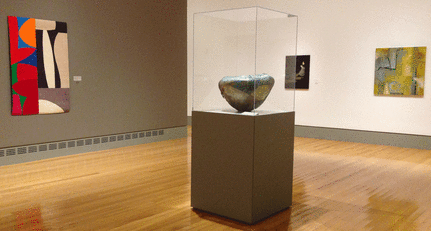 Tuesday, December 8, 2015. It's 5:15pm, the dark is descending, but I am replete following dinner at the Good Life Café in Columbia, SC. A wisp of a guitar player appears, sets up her mic and amp prior to entertaining the diners. In my mind, this is an act of bravery. She avoids eye contact with the clientele, until I applaud following the first song in her performance. I often wish that someone would walk up to a painting or a sculpture and, following a few moments of contemplation, break out into applause.
I did not applaud earlier this afternoon at the
Columbia Museum of Art
, although O'Keefe's "Blue Line" and Jarrard Dimond's "Joy and Sorrow" elicit an internal, silent applause. My mission here is twofold: view the exhibits "Georgia O'Keefe: Her Carolina Story" and "Independent Spirits: Women Artists of South Carolina." Both are on view through January 10, 2016.
Having seen O'Keefe exhibits and artwork in permanent collections previously, and having consumed a biography or two of this exemplary artist, I don't know what to expect. Somehow I missed the seemingly pivotal role that O'Keefe's time as a teacher at Columbia College played. Not worried about archival paper, O'Keefe created exploratory charcoal drawings on newsprint that are now preserved and framed for posterity. I appreciate that Columbia Museum displays the drawings separately from her works in watercolor and oil - her works of color. Had it not been for the artist's friend and advocate, Anna Pollitzer, presenting these drawings to Alfred Stiegletz, well...the rest is history. In my mind, creating these drawings 100 years ago here in Columbia was an act of bravery.
An artist friend told me that the pieces in the "Independent Spirits" exhibition have lots of breathing room. True, and breathing room is a viewing feature I prefer. In scanning the catalogue, I learn that the curator invited 30 artists to participate for various reasons: female artists who were born at the time O'Keefe created in Columbia, SC; artists preeminent in their field; and artists with associations to institutions of higher learning in the state, among other criteria.
Here is work with weight - literally as well as figuratively: an installation in clay and metal "Fear Mongers - Extracted" by Bri Kinard, and the organic "Tree Totem IX" by Alice Ballard. Here is work as light as the fabric utilized in its creation: a silk landscape "Abiquiu (O'Keefe's home in New Mexico)" by Mary Edna Fraser, and an emotive "Joy and Sorrow" by Terry Jarrard Dimond. Painting, encaustic, assemblage, mixed media, photography, sculpture, and collage are all represented. There is a plenitude of abstraction, perhaps a leaning of the curator or simply the nature of the work by the selected artists. The most representational pieces are Karen Ann Myer's painting "Self Portrait (Karen with Sauconys)," and Kathleen Robbins' photograph "Ashe in the Canebrake at Dusk."
As I stroll, I want to dial down my mind's "familiar" button. It is apparently ingrained in the human condition to seek that which we recognize. Here are Greenville artists, whose work is familiar. "Don't dismiss," I remind my brain. "Look, consider, and reconsider." Isn't that what O'Keefe did? She dialed down the familiar ways of looking at landscape and flowers and, by having done so, she dials down our own "familiar" button.
Before I exit the exhibit, I find myself asking, "Independent spirits from whom? from what?" The Museum's answer is that independent spirits are "...women who work against the social grain to pursue modern and experimental means of artistic expression. ...these women represent the undeniable role that women play in shaping the future of arts in South Carolina." To that I will add, these (and many other females who are not in the exhibition) are brave artists who, like O'Keefe, shape not only the future of arts in South Carolina but beyond. At least, in my mind.
PS: Worth viewing on the Museum's 2nd floor is a quiet alcove of an exhibit, "Original Spirits: Early South Carolina Women Artists from the Collections."