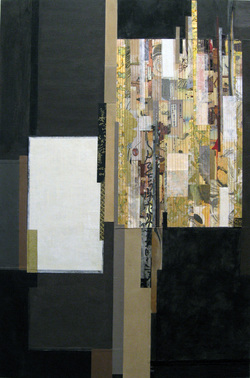 When Steve Wong, Marketing Director for The Chapman Cultural Center, asks me a question that I've been asked dozens of time, I find myself giving a new answer. "Have you ever visited Japan?" It is a logical question as my artwork reflects a self-described Asian aesthetic. My answer: "No, it's too crowded."
I experience claustrophobia in crowded-no-visible-escape scenarios, and even photos of urban Japan elicit this sensation. Whereas photos of rural Japan elicit a fear of being too disconnected from urban life. Go figure.
A week later, artist
Stephen Merritt
- who learned his clay-vessel crafting in Japan - suggests that I really must travel to Japan. Again, "No, it's too crowded." He reminds me that Japan is a land of opposites: tumultuously overcrowded streets balanced by serenely tranquil temples. I am not convinced that I could survive the tumult for the sake of the serenity. Honestly.
The image above is "Edo Influence 5" - one of a collaged and sewn series created on 3x4 foot cradled wood - currently on view in the Artists' Guild Gallery, Chapman Cultural Center, Spartanburg, SC. It is the image the Spartanburg Herald Journal selected to accompany
Steve Wong's column
in the Arts section of the Father's Day edition.
Perhaps it is obvious in this piece, and in the series, that in my art as well as life, I am piecing together a balance of activity and non; of full and empty. It is in the emptiness that my creativity resides; it is in the activity of creating that it manifests.
Perhaps the direct influence of Japanese aesthetics is now so ingrained in my creative psyche that there is no need to visit the literal cities and country of Japan. Perhaps as I continue to bring my artistic sensibility to the ever-evolving work, it will one day say "Laurel" even more than "zen like" or "Asian."