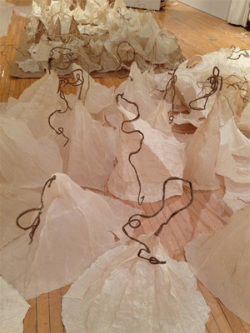 It is almost one year to the day that I first met artist
Jocelyn Chateauvert
in Charleston, SC. In 2013, I drove from the Upstate (Greenville) to participate in Artist U - a weekend intensive, part of the SC Arts Commission's Artists' Ventures Initiative. Jocelyn drove from Charleston to North Charleston; 28 other multidisciplinary artists arrived from the lowcountry and all points within the state. It was a pivotal, empowering career moment; best to read my
November 2013 blog
to learn more.
This weekend an arctic chill lingers on spanish moss and rain pocks beach sand; it's atypical. Jocelyn, a self-described "paper wrangler," and I share an immediate affinity due to a common medium, albeit translated uniquely. Jocelyn makes paper, then folds, twists, curls and manipulates the still-wet pulp into rich organic form. To add the descriptor "rich" seems redundant, yet it needs to be spoken because the artist does not replicate her source inspiration as much as imbues it with its own energy. Jocelyn reaffirms that she doesn't reference the source as an actual model.
By now, if you haven't segued to Jocelyn's website, the question in the air is most likely - what does Jocelyn create? At the moment, flora such as super-sized lily pads, or morning glories suspended by their own paper vines and grouped to form an installation that debuted at Peter Paul Luce Gallery, Cornell College in Mount Vernon, Iowa (Jocelyn's native state). White morning glory blossoms that capture light and cast shadows and, what you cannot experience on the artist's website, that generate sound as they contact each other. A dry rustling of strong, three-dimensional paper.
We climb the staircase in Jocelyn's home to the studio in which she transforms her paper into two- and three-dimensional artwork. I am surprised the studio is not larger, given the scale of her morning glories but, as I also create elements for installations in a small studio, I understand. We pause on a landing, Jocelyn opens a window to reveal a 400-year old tree, and explains this was one of the major appeals in acquiring the house. Later, when we are in Jocelyn's wet studio, she opens a closet door to retrieve a beautiful handmade papermaking frame (mold and deckle), one that will, in her own words, be usable for 300 to 400 years. I am beginning to sense her respect for time, of honoring the legacy of a tree, and even of a tree now crafted into a wooden frame. It feels Japanese to me, an aesthetic and appreciation for the past as it moves into the future.
In the downstairs wing, accessed via an outdoor porch, is Jocelyn's wet studio with paper blender, tubs, mold and deckle (frame), and press. If we had time, we could make paper, Jocelyn exclaims. It is hard not to catch her enthusiasm and yet I feel my hesitancy, only because each new art medium opens a door to endless learning and experimentation. And I tend to focus on my own processes and types of paper (e.g., shoji), wanting to do more, go further, a bit tentative about becoming distracted.
Paper is a fascinating medium; ephemeral yet capable of outliving us, soft and pliable but also crisp and firm. Even in our digital age, we use and encounter paper daily. It is a staple taken for granted but, luckily for the world, is visited with new sensibilities by artists. Like Jocelyn.
Admittedly I am impressed with Jocelyn's artistic journey: SC Arts Commission's 2005 Craft Fellow; Smithsonian 2010 Artist Research Fellowship; exhibit and artist talk at
2013 Artfields
; paper construction demo at Museo della Carte, Fabriano, Italy, during IAPMA 2014 conference; a recently installed commission "
The Space in Between
," suspended in the SC State Museum's planetarium; and more. What interests me now is the continuation of Jocelyn's journey: paper that has not been made or manipulated; ideas and nascent forms that have not yet materialized. I won't wait another entire year before rediscovering this artist!